Dern dern den-den-den-dern....
Written 17/5/13
What makes Voyager so ruddy fantastic? I think, to be perfectly honest, it is how simply not ruddy fantastic it manages to be. Very rarely does it develop into something truly exceptional, does it push boundaries into territories unexplored by the series. In fact, a cursory glance as the show's overall track record might reveal the rather unfortunate fact that Voyager is a bit crap. But, for the most part, it's not an offensive kind of crappiness, and the show builds up on its audience in a way which makes it endearing and interesting, and by the time you reach the show's final episode it's heartbreaking to see these locations and characters and plots have to end.
With flagship show The Next Generation ending, Voyager was clearly an attempt to continue the pioneer spirit championed by that show, as opposed to the more static and detailed drama of contemporary sister show Deep Space Nine. However, the characters as designed were certainly less fluid and natural than those of its colleagues. An attempt was made near the beginning to create a show-wide conflict between the rule-based Starfleet practices of the Federation and the more militia-style rough-handedness of the terrorist Maquis, but this really just vanished to the point where by the second season one forgets that there was every any split at all. The cast is very well ethnically represented, but the focus on having this variation comes at the cost of individual characterisation.
The result is a group of characters very few of whom are actually at all interesting, but collectively they sorta form a family of people whose interactions morph Voyager into a kind of comfort TV. The best character in the original lineup is the Holographic Doctor, whose character has both the wit to give him and endless amount of screen presence and some of the best centric episodes when focus is made upon the nature of his existence and his reputation amongst the crew. He is later joined by show tour-de-force Seven of Nine, who aside from being cheap fanservice brings gallons and gallons of brilliant character development with her.
But then of course we have the least brilliant characters. The series' scrappy is most definitely Neelix, one of the most annoying characters in the entire damn Franchise (Yes, more so even than Wesley Crusher) in both his annoyingly perky attitude during crises and, in his dramatic moments, a sense of entitlement and possessiveness over partner Kes that makes him infuriating to watch. The writers acknowledge this, but he just carries on, even after Kes leaves. Elsewhere, and Ensign Harry Kim is possibly one of the most
useless
characters on the show, dying multiple times per season and having inappropriate crushes on all manner of different aliens.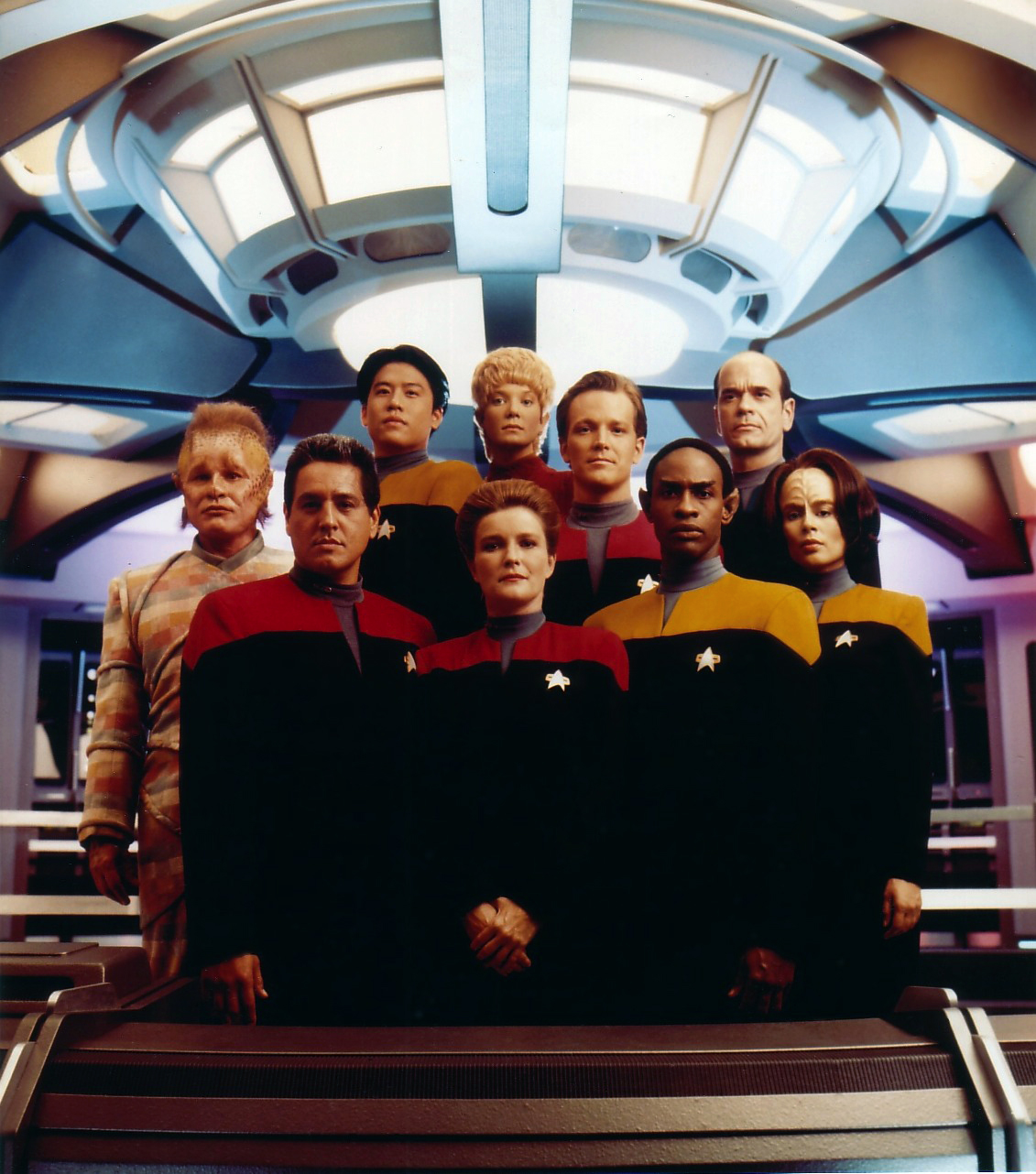 The show's lineup during the season I'll be
reviewing over the next 15 weeks.
I am conflicted on what to think of this show's Captain, Kathryn Janeway. Whereas Deep Space Nine's Commander Sisko was the first African-American to head up proceedings, Janeway was the first female, and this created something of a conflict. The writers really didn't know what they wanted Janeway's main characterisation to be - it varies from writer to writer, episode to episode, some interpretations using her gender as part of her characterisation, others ignoring it. It's difficult to really predict whether Captain Janeway will be wonderful and compassionate and intelligent and a feminist icon or whether she'll be arrogant and pig-headed and deluded beyond belief.
All of which ties into Voyager's main beef - the use of the Reset Button. When the main plot of your show is getting home and you choose to spend so many episodes offering up a tantalising glimpse of that solution and then ripping it away, the whole idea gets a tad tiring. Voyager never took any risks, it never deemed to change its premise and the way that it worked as its sister shows did. Maybe they could have gotten home after a couple of seasons and been sent on another assignment. Maybe they could have made alliances, decided to settle somewhere before setting off again - anything to change from the endless cycle of "Here's a way home - oh wait, sorry, didn't work this time."
But I think, despite my complaining, that that is exactly what brings it its lasting legacy. It never did anything dangerous, for the most part, and that turned it into a specific brand of inescapable comfort TV that, while not creating many
good
characters and plotlines, made them enjoyable through sheer will and charm. Added to the fact that while overall its plotline didn't go anywhere spectacular, the show's individual episodes would often probe into places where other Star Trek series' feared to tread and that despite a lot of problems with its representation, Voyager is at least trying to be a tour-de-force continuation of Gene Roddenbury's progressive dream.
Thanks.
NEXT WEEK: We begin to review Voyager's first season, with
Caretaker
.