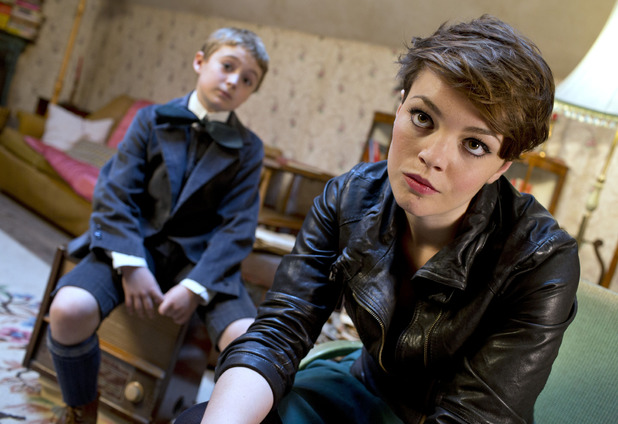 Alex is forced to look after the irritating if tragic Oliver.
After a decidedly lukewarm premiere, Series Five took a deliciously dark turn while still managing to throw in enough elements from across the comedy-drama checklist. It really felt like the premiere that we wanted last week, and we just had to get over some uninteresting backstory to get to the good stuff. We're not just talking decent adventure, we're talking fan-pleasing moments that we've been looking forward to since Annie's arc in the second series, and it was that second series that this episode seemed to emulate the most. It was really getting quite gruesome, to be honest. I don't know whether I think that's good or bad, though.
At work, lusting boss Patsy set up an Employee of the Week competition in order to snag the still uninterested Hal, unintentionally creating a rivalry between him and the work-hardy, oblivious Tom. Alex, reminiscing about her younger brothers, called Hal and Tom home when she discovered Oliver, the ghost of a young Victorian boy who claims to have been hiding in the house since he died, afraid of the Men With Sticks And Ropes, the terrifying demons in charge of the afterlife. While for the most part Oliver hit all the symptoms of Annoying Child Actor Syndrome, I did enjoy when the storyline took a darker turn, Oliver explaining that he feels responsible for the accidental death of his crippled younger brother. While Captain Hatch (who last week was revealed to be the Devil) tried to fan the flames of rivalry, culminating in a food fight between the boys, Alex and Oliver were almost trapped by the Men With Sticks And Ropes, who tried to drag Alex to the afterlife. His plan foiled for now, Captain Hatch talks Patsy into killing herself.
The episode's best performance by far came from Phil Davis, now comfortable and settled in the role of Captain Hatch and slowly becoming more menacing the more time he stays on screen. Unlike other devil figures that we tend to see on TV these days, he embodies something very crude and grotesque about the human condition, a physical embodiment of man's worst traits piled into one despicable and yet strangely addicting character. His final monologue, where he pretty much sets out his evil plans (mwhahahah, etc.) is probably up there with some of my favourite moments, as we see Patsy bleed from every part of her face at once. Bah. Wonderfully gruesome stuff.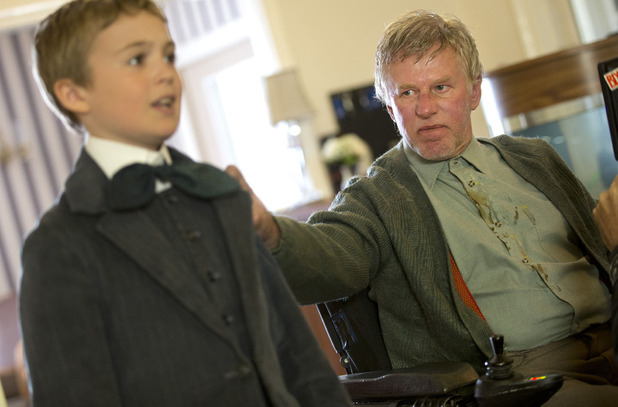 Oliver is inadvertantly working for Captain Hatch.
More importantly, this episode did a much better job of developing Alex than last week, and she finally, at least for me, feels rounded as a character. I think a lot of the hesitancy in the fanbase comes from accepting that the show's character dynamics have changed, and episode two post-Annie it's only really just struck me that the show's central matriachal influence, as slightly irritating as I found her at times, has made her absence felt. At the same time, it also blew away a lot of my fears, and Alex is as good a character if not better. She's fun to be around, she's got a great wit and she certainly seems like a more confident ghost than Annie was in her early days. If anything really is missing, it's probably the old feeling that the show gave of the Trinity being a family-esque unit, but we'll no doubt see that improve in the weeks to come.
I only really give myself an hour to write these "live" reviews, and so it never really feels like it's gonna be enough. Suffice to say that this is gonna go down as one of the better episodes of the series as a whole, and it has certainly made me feel ready for what is now the final series. There was always a fear in the eight-part seasons that it was going to become too easy for filler to fit through the mesh, and now that this series only contains six episodes, I'm fairly confident that it's going to do the series proud. I'm loving the characters, loving the humour and, so far, I'm loving the new tone that the series has going. Keep it up.
Thanks.
P.S. Last week I said that the scenes set in 1918 were in fact set in the 18th Century. Thank God nobody reads these reviews, or I might have actually gotten in trouble for that.
P.S.S I dunno whether to call him The Devil or Captain Hatch. It's like Alisha and Alesha, I don't know.