So we're past the point of no return, and slowly it's getting darker again. But that means nothing for TV, and it means squat for Audenshaw Reviews. The Autumn Block in 2012 is
packed
with the shows that I review, and so I thought I'd take the time out to run through my expectations and my hopes. Expect spoilers here and there.
Matt Smith is going nowhere.
Doctor Who, Season 33 (Series Seven)
In the Classic Series, the show tended to start in Autumn and then leach into the new year; that's how it started in November '63 and that's how the show was
meant
to be. In the dark - scary. One of the main complaints about the New Series was that because it was light outside when it went out, there wasn't the right atmosphere. The right tone. I remember one episode back in Series Four where I came in to watch it right after helping my parents in the sweltering heat of the garden. Not really synonymous with, "threatening and tense."
Series Six was astoundingly high quality on the surface but felt really repetitive and oft. mediocre in its themology and characterisation. The blunder that was Amy and Rory's failure to care about their kidnapped daughter until it mattered really ruined it for me. Despite that, there were some genuinely good episodes last year - predominantly The Doctor's Wife, The Girl Who Waited and The God Complex. I expect similar (well, higher) levels of quality this year.
After Series Six's intense serialisation, Moffat has promised us something very different this year. Apparently every story of Series Seven is going to be standalone - there aren't even any two-parters. This makes a change from both New and Old Who, and hearkens back to around the T.Baker era. This is perhaps in conjunction with the change to Autumn, as the Who world gears up for its 50th Anniversary next year. With that in mind, I look forward to the new series of Doctor Who with its new companion (go Jenna!), new stories and new attitudes.
If you've somehow missed them, my reviews of Doctor Who can be found in the "Dr. Who" tab at the top.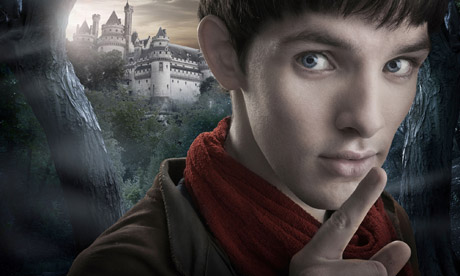 Merlin's final year approaches. I welcome it.
Merlin, Series Five
Merlin began as an Autumn placeholder for Doctor Who's more Summerly family fun. It's ironic that the show's final series arrives in time for Doctor Who to replace it. The show, an Arthurian export of the US Show
Smallville
, will be best known for its obsessive slash-fic-loving fandom and its great potential - a potential that so far it hasn't lived up to because of writing more shoddy than Arthur's ever-dirty armour.
At the end of Series Two, I hoped that Series Three could continue that series' golden streak. It didn't. At the end of Series Three, I hoped that Series Four would improve upon that dreadful mess. It did, but it still isn't enough. It's not like Merlin can't be good television if it really, really tries, but it rarely does. And, most of all, it has to remember its characterisations. There were several points in Series Three and Four where things were effectively reverted back to the Pilot episode for the sake of a comedy moment.
Newsflash - Merlin does not do, and has never done, comedy well. All it does is ruin everything else. If Series Five, in its final thirteen hours of plot, tries to keep to this... well, we'll have problems. Series Five has to do something monumental - it must reveal Merlin's fascade and, unlike Uthur's death last year, it has to do it well. This will be the key point in the series and likely what the series as whole will be judged upon afterwards.
My expectations aren't exactly at cloud-nine right now.
Alisha and Simon are gone - for good?
Misfits, Series Four
At the beginning of my examination of Series Three, I asked myself whether Robert Sheehin's departure would have an affect on the show's dynamic. The answer was no, and yes. On one hand new Misfit Rudy perfectly filled the gap and was often written with very similar dialogue at times, but on the other... Rudy couldn't pull the friend-ship card. Nathan was so tremendous not only because he was a completely ridiculous and offensive caricature of humanity, but because he was also loved and could show real love.
Series Three's finale also saw the departure of Alisha and Simon, two characters whose temporal love affair formed the key to the show's main Superhoodie storyline. Further, Lauren Socha left the show after an embarrassing rascist incident. With that over, only two characters are left, only one of them original. I don't really see what else we can do, other than adding new characters to the mix - something that, due to Rudy's writing, I'm rather uneasy about. However, seeing future Misfit Karla Crome's performane in Hit and Miss, I can at least sleep in the knowledge that it won't be a complete failure.
The last series was supposed to be a chance for the show to innovate itself. With the Superhoodie storyline now stifled, it's a real test of whether this show can reinvent itself enough to survive. If not, then I suspect I won't be writing a passage like this next year.
Craig and Danny get down to business.
Red Dwarf, Series X
Why Series 10? Because Doug Naylor's choice of the "knees Death in the balls" ending for
Only The Good...
gave him a cliffhanger that he couldn't fix. And, after the apalling Series VIII, not many people wanted him to. But, after a decade of fan outcry, the show's 21st Anniversary was celebrated through the Back To Earth miniseries. Fan hopes were high.
While I don't hate Back To Earth, I'm in the minority. The attempt at drama over comedy was carried over from Series VII, and it just didn't work. There's so much potential here for brilliant stories, but Doug Naylor just has to hand the writing to someone else. I do not want this to be a repeat of the Dark Times, and no matter what the reaction from screenings, I have yet to see proof that Dwarf can return to its former glory.
Regardless, any new Dwarf is good Dwarf as far as I'm concerned. A few months ago I was unsure that the show was even returning, and rather like Doctor Who, I feel privelaged that something once so retro is returning in my lifetime. So for now I'm feeling optimistic about the return of the Boys From the Dwarf, and positive that whatever happens it's going to be an exciting ride. See you there.
Thanks.
Editors Note: This was written in January, touched up in June, to be posted while I was away. Postponing this article is part of the "astoundingly good maths" I mentioned yesterday. I hope you've enjoyed it; it's one of my favourites.