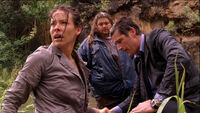 They're back.
The first six episodes of Season Five contain a plot that should have been able to stretch over the entire season. The Time-Travel plot was good enough to show us a hell of a lot of mythos while the Temporal Misplacement still provides drama. The modern day story could have been an epic quest, as the Oceanic Six resolved their demons in the outer world and returned to the Island willingly. But, instead, we rush the story and thus, after only six episodes of being off the island, the Oceanic Six finally return.
In true Lost fashion, the return of the Oceanic Six doesn't necessarily prevent us from seeing all of their story. 316 is Jack-centric, and follows him meeting Eloise Hawking. She tells him that he must replicate the circumstances of 815 as closely as possible, and therefore must make sure that Locke's corpse is carrying something of Jack's father's. Jack at first is driven to drink, but soon he finds a pair of his father's old shoes and puts them on Locke.
All of the Oceanic Six, bar Aaron and Desmond, are on the plane. Hurley is on the plane for an unknown reason and carries a guitar case that he never had before. Ben has been severely beaten up and has broken his arm. Sayid is under the guidance of a law-enforcer. Jack also discovers that the pilot is Frank Lapidus, the pilot that took them off of the island those years ago. (Or, for us, six episodes ago.) When Ajira flight 316 crashes, a strange thing happens; Jack, Hurley and Kate flash back to the same time as Jin and the rest of the survivors. The rest stay where they are.
Jack stories are generally uninteresting because Jack is not, and has never been, a compelling character. He represented the Science half of Lost's supposed Science Versus Faith divide, and unlike the Faith side he never really lives up to his side of the bargain. He spends the vast majority of his dramatic moments getting stoned off of his head and none of his other storylines (like the Quadrangle) are of any interest. 316 spent more time looking at the circumstances of the 316 crash
around
Jack rather than giving the character any depth himself. So he's upset at the death of his father, so what. That's been the same since day one. This leads into a real problem for me, which is that this story has a huge Faith undercurrent that would continue until the unashamedly Christian finale of Season Six. There's even a point where Ben tries to teach Jack a lesson using a parabe from the Bible, one that makes little sense and only adds to my disdain on Lost's general thematic direction.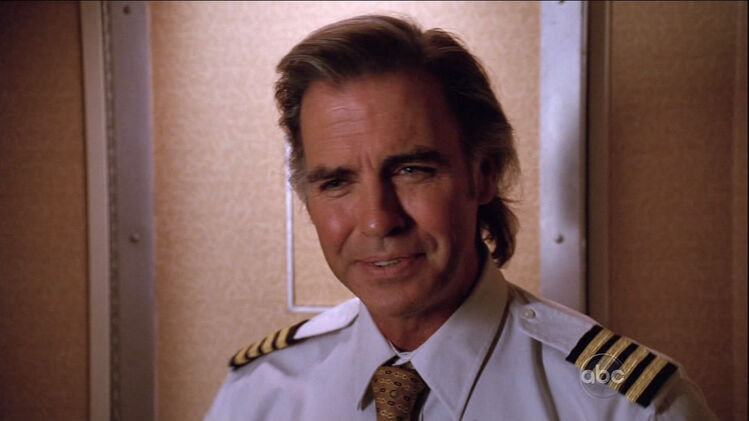 "We ain't going to Guam, are we."
And there we have it. In terms of, "The Present," whatever that means any more, the Oceanic Six are back after only six episodes off. 316 wasn't perfect, and it had a few undertones which uneased me, but it was soldily constructed and portrayed the Oceanic Six's return with some much-needed grace.
Thanks.
NEXT WEEK: What exactly did Locke do when he left the Island? Find out in The Life and Death of Jeremy Bentham.